Latest Data Updates
 Structured Cabling & Network Infrastructure

The physical network infrastructure is one of the most mission critical elements of any organisation. Organisations & users are becoming increasingly technology-dependent and interruptions in service have an immediate impact on day-to-day activities and overall productivity. The impact of downtime can range from being a minor annoyance to causing significant loss of revenue and business. It is therefore critical to diagnose faults before they occur, identify bottlenecks and carry out preventive maintenance to maintain optimal network performance.
A reliable, high-performance computer network is guaranteed by:
* A professional computer network installation
* Regular monitoring & testing of your computer network
Our computer networking infrastructure and structured cabling installations are designed around industry-standard practices, and guarantee to provide you with a reliable, scalable, high-performance computer network.
Our Services
Cable Installation : -
Hardware Installation: -
Testing and Configuration: -
Structured Data Cabling Services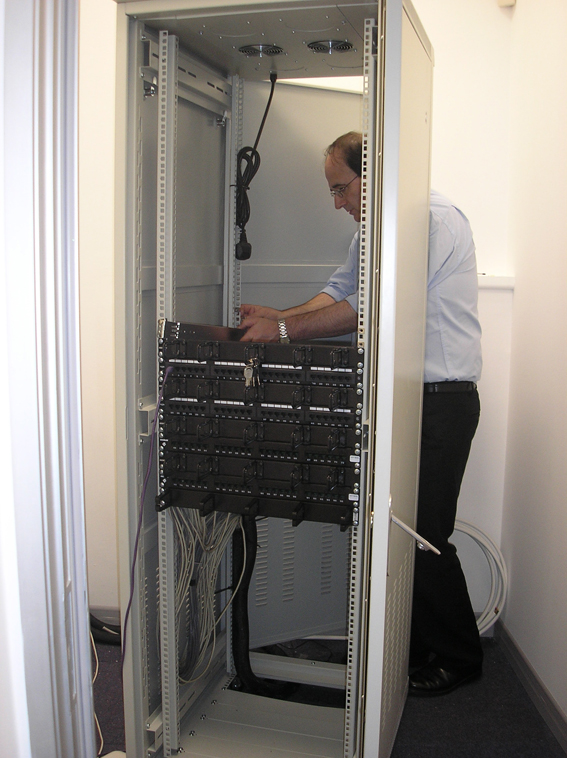 Cat 5e / Cat 6 Networks
Cat5e networks are the lifeblood of most computer networks today. Indeed, despite the increasing proliferation of wireless networks, most computer network installations are centred around a structured cabling network infrastructure. A structured cabling approach, usually involving installation of Cat5e / Cat6 cabling offers a high degree of resilience, speed and reliability. When a high-performance, reliable connection is required, Cat5e- or Cat6-based cabling solutions represent the number one choice.
While they offer less flexibility that the "anywhere, anytime" approach enabled by wireless technology, cabled networks offer an inherent security feature: physical access to the cables is required in order to directly access the local area network (LAN). We employ a standard structured cabling methodology, wherein we identify all required points of access, meticulously plan cabling installation routes, identify points for switching, routing and firewalling, carry out installations in accordance with industry best-practices, test all connections and prepare user-friendly documentation of the entire cabling layout With yesterday's explosion & today's ubiquity of multimedia applications and large data payloads, demand for bandwidth has increased dramatically. We aim to future-proof any installed network infrastructure as far as possible. For this reason, when specifying / installing a new network, we recommend that the network should be a gigabit ethernet network, or at the very least, the infrastructure should be able to accommodate a transition to gigabit networking.